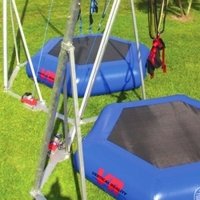 Eurobungy trampoline - 1 Station
The perfect jumping experience for your next event! This single-station eurobungy is affordable and can be setup indoors or outside. Adding this piece to your event will draw attention and create excitement for everyone.

The participant is first centered on an inflatable trampoline, then secured in a custom, adjustable, padded harness by a trained operator. The combination of power cords and an electric wing allow the jumper to catapult up to 24 feet in the air! The combination of elastomers and lift enhances the jumpers' ability to perform front and back somersaults as well as reach heights that would normally be impossible.Depending on lines and number of party goers, approximately 15-20 participants can rotate per hour.

Rental comes with trained operator(s) for two hours of actual jumping. Third hour is $150. Additional hours after the third hour is billed $100 each. Required to use our trained operator(s).