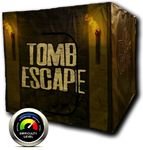 Escape Room
Bring the fun and challenge of escape rooms anywhere with our NEW mobile The Great Escape, Tomb Escape attraction!
Up to four players at a time compete against the 15 minute clock or try to beat other teams record of escapes. Sound effects will urge participants to complete the puzzles while working together. Teens and adults will find the game challenging and entertaining. This piece is a perfect centerpiece for after prom gatherings, youth groups, day camps, college events, and corporate team-building events! Also, a great option for those rainy days when other games and inflatables can't be setup. The Great Escape can be setup both inside and outdoors!
The rental comes with a game moderator for two hours or we can train your own moderator for up to four hours of play time. If arrangements are made in advance, additional time can be added for $50 per hour. Call to discuss the time and level of help you want to make this the talked about party of the year! This game will cycle 12 to 16 players per hour.